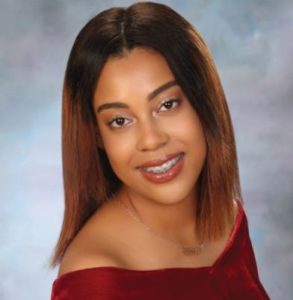 The success story of Shafrarisi Bonner '17 starts with a family that has always protected her and lifted her up. Literally. When Shaf was 4, her 12-year-old sister, Kharisi, shielded her and a young cousin from a drive-by shooting in their Bed-Stuy neighborhood. Although her arm was shattered by a bullet, Kharisi got the girls to safety. In honor of her bravery, the local police department awarded Kharisi a scholarship that covered her freshman tuition at St. Joseph High School the following year.
Not surprisingly, where Kharisi led, her sisters followed: Mharisi '11, now pursuing a Masters at Columbia University Teachers College; Aharisi '13, a recent Barnard grad; and finally Shafrarisi. Like her smart and spirited sisters, Shaf took advantage of everything SJHS had to offer. She wrote for the school newspaper, edited the yearbook, served senior citizens with the Glamour Girls, participated in the Speech Team, and as an upperclassman, landed a spot with the Sadie Nash Leadership Project to promote activism among young women. The Sadie Nash team also nominated her to be a Brooklyn Youth Fellow, an initiative of the Brooklyn Community Foundation to encourage grassroots participation in social justice issues.
With all this under her belt, Shafrarisi was among a group of students chosen by the College Office to compete for a scholarship from the country's most prestigious college access program, the Posse Foundation. Shaf loved meeting the Posse staff and students and made it to the second round, where she had to choose and rank five match schools. Indiana's DePauw University, with its Prindle Institute for Ethics and focus on student civic engagement, rose to the top. DePauw spoke to Shaf's passion for social justice and her experience resonated with the DePauw interviewers, too. As St. Joseph's first Posse Scholar, Shaf will receive four years of free tuition and academic support at DePauw. St. Joseph's and the Bonner family – especially Kharisi, now a young mother – couldn't be prouder.