Students experience a rigorous academic and values-based curriculum from a gifted faculty who understands how girls learn and creates a climate characterized by high expectations for academic achievement and mutual respect.
St. Joseph High School offers a comprehensive guidance and college-counseling program. We encourage students to begin by contemplating their own lives, their personal goals and belief systems, and guide them through their journey of self-discovery.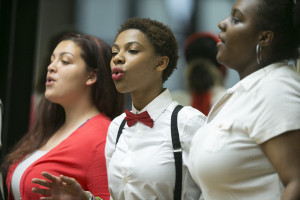 .
The visual and performing arts are an essential part of the academic program at St. Joseph High School. Whether it's drama, drawing or dance, SJHS provides countless opportunities for students to expand their imaginations.
.
.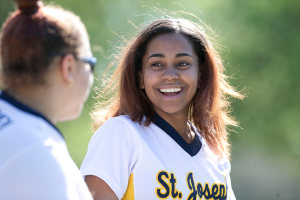 .
St. Joseph High School offers a variety of extracurricular activities and clubs that enables students to develop talents and collaborate outside of the classroom. Because of the size of the SJHS, many students will have the opportunity to hold leadership positions in clubs by the time they are seniors.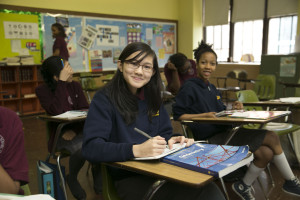 .
Staying true to it mission of producing responsible global citizens, the business program provides a moral foundation for leadership in management, international business, marketing, accounting, information and communication technology and entrepreneurship.
.
St. Joseph High School is a spirited and diverse community of young women where academics and personal integrity are valued equally. We welcome students in grades 9-12 from all five boroughs that represent the multicultural, ethnic and economic diversity of New York City.
.
St. Joseph High School is committed to welcoming students who show intellectual promise regardless of their economic situations. Tuition assistance is given on the basis of need, and each case receives individual consideration based on information provided by the parents/guardians.
October 22, 2015
SJHS Open House, 6-8 p.m.
.
November 7, 2015
Test for Admissions into Catholic High Schools (TACHS)
.
Diane Reyna '91 A term-limited Williamsburg councilwoman is staying in politics, making the seamless transition into the position of deputy to brand-new Borough President Eric Adams announced his choice of 34th District three-termer Diana Reyna on Tuesday, saying that her commitment to social justice issues made her an obvious choice.
We have seen the ways in which a St. Joseph education transforms the lives of our students and launches them into bright futures. We invite you to be a part of this transformation. Help us to empower each student to recognize and maximize her potential, and make a gift today.