On February 14th, students and faculty concluded their Ash Wednesday and St. Valentine's Day by attending a riveting game at Barclays Center. But it wasn't just your typical game! Before watching the Brooklyn Nets, the Lady Cougars hit the court to play Our Lady of Mercy High School, through the Barclay's Center Court of Dreams program. Despite losing by 3 points, the SJHS players had a fantastic time playing!

At half-time, the Step team gave an excellent performance for an audience of students, teachers, and family members from both teams. When it was time for the Nets to play, 18 of our students were chosen to high-five the Nets players as they came out to warm out, and 10 students were selected to stand next to the Nets for the national anthem.
The Court of Dreams was an amazing experience!  Although we didn't get the win, these young ladies have won in many other ways. A lot of that is because of our wonderful faculty, staff, and guidance counselors, whose support means the world to these young ladies. As the coach, I play a very small role in assisting the process of becoming a true student-athlete. This is such a young team with a bright future. We will be winning for many years to come. Although we can't promise to win a championship every year we can promise to play hard and represent St. Joseph the only way we know how. Thank you!

— Coach Mike Toro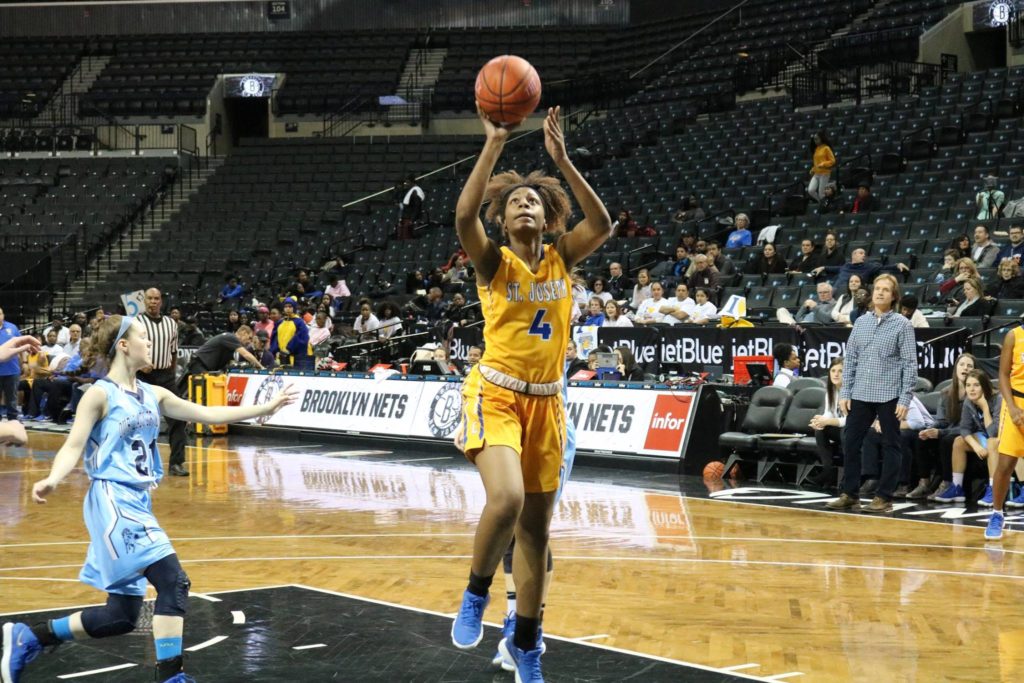 This has been a great season for our Varsity team so far; on March 1st, the Lady Cougars advanced to city championships, coming away victorious on March 3rd! Now they will be advancing to state semi-finals on March 9th!