"Come, let us sing for joy to the Lord!"
Singing in a chorus is somewhat unique among human activities; to sing well, listening to all the sounds that surround you is just as important as any sound you make. Each singer's voice is unique, and yet all can come together to make a new sound, stronger and clearer for its many parts.  Indeed, one of the great choral traditions of the Catholic Church, polyphony, comes from Greek words meaning "a multiplicity or variety of sounds."  Immersing oneself in a choral song is an incredibly powerful experience because the singer feels a sense of belonging, and of being pulled beyond herself into something great and beautiful, something transcendent.
Whatever emotions and experiences the music expresses – joy, suffering, fear, wonder, love, or loneliness – the voices blend to create a harmonious whole, where each singer can find herself as a part of a community. Entering into a song can allow a student to process and express her own emotions and experiences, and to understand those of others, building bonds of empathy and cooperation. And for young women who are new to singing, careful training and years of practice can help to discover and refine hidden talents, bringing a sense of accomplishment and personal fulfillment. For these reasons among others, St. Joseph High School sees choral singing as an integral part of the well-rounded education that we seek to offer.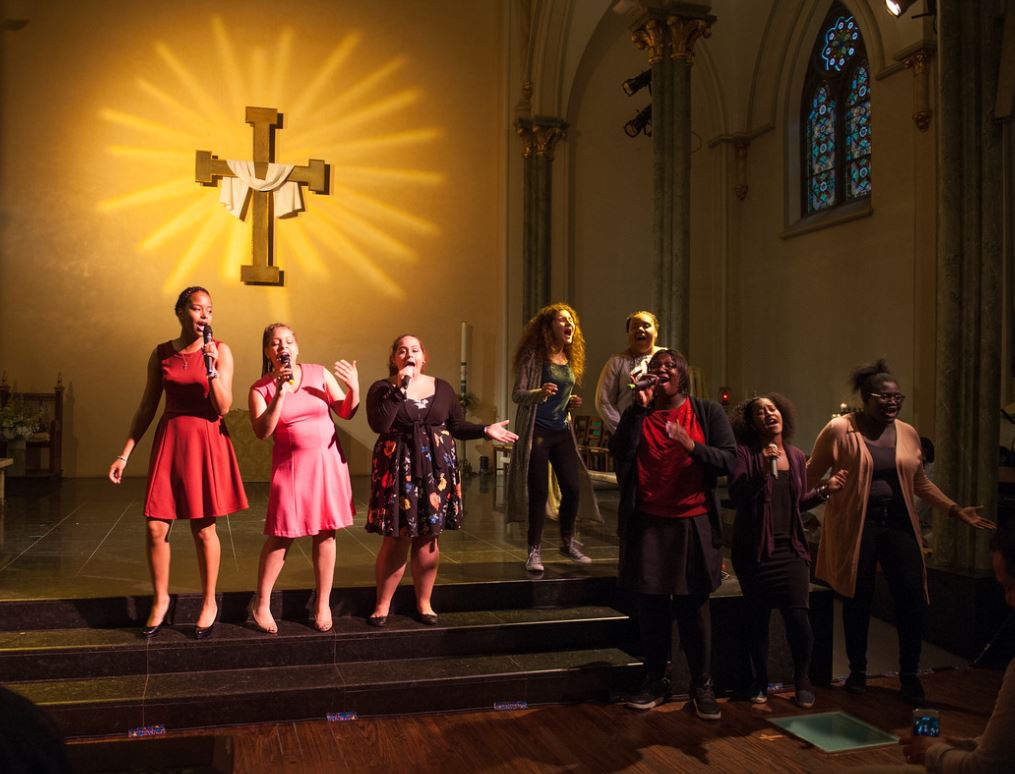 Learning the Art of Singing
In Mr. Schlesser's Chorus classes, Freshwomen learn the fundamentals of music and singing. They receive vocal training, learn sight reading and sight singing, and encounter the basics of harmony. In a loving and nurturing environment they develop confidence, stage presence, and train both their voices and their minds in the art of choral singing. Many students who might still be looking for their passions and talents uncover a voice they never knew they had as they learn to sing. In addition, Chorus provides a thread of continuity; many students remain in the program for all four years of high school, growing in skill, gaining performance experience, and developing a repertoire of music.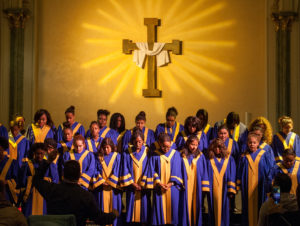 In grades 10-12 the students are singing in a three part SSA (1st Soprano/ 2nd Soprano/ Alto) choir, learning pieces from a wide variety of genres. They prepare music for school liturgies, and performances at Thanksgiving, Christmas, Women's Professional Day, and Fine Arts variety shows, and more. Whether the pieces are religious or secular in nature, Mr. Schlesser looks for compositions that are rich with meaning, allowing students to enter deeply into the experience they convey. 
The Joy of Teaching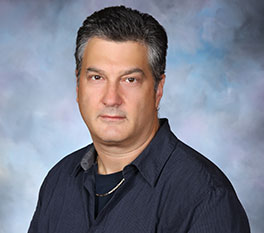 A working artist himself, Mr. Schlesser explains, "It is a joy to share the crafts I love with students, and to help them  discover their hidden talents. Because Chorus is an elective subject, I get to teach students who choose to take this class, and this  is part of why they are so engaged and excited to learn." In a time when many schools are cutting back on their support for arts programs, Mr. Schlesser is very grateful for the supportive administration at SJHS, which has always valued Chorus as an important part of education.
If you are interested in hearing and seeing the SJHS Chorus perform, we invite you to come to our Christmas show on December 20th at the St. Francis College Auditorium! More details to follow soon.
It is in living and acting that man establishes his relationship with being, with the truth and with the good. The artist has a special relationship to beauty. In a very true sense it can be said that beauty is the vocation bestowed on him by the Creator in the gift of "artistic talent". And, certainly, this too is a talent which ought to be made to bear fruit, in keeping with the sense of the Gospel parable of the talents (cf. Mt 25:14-30).

Here we touch on an essential point. Those who perceive in themselves this kind of divine spark which is the artistic vocation—as poet, writer, sculptor, architect, musician, actor and so on—feel at the same time the obligation not to waste this talent but to develop it, in order to put it at the service of their neighbour and of humanity as a whole.

– From "Letter to Artists" by Pope Saint John Paul II
Photo Credit: Stephanie Mann, Instagram @stephmannstephmann