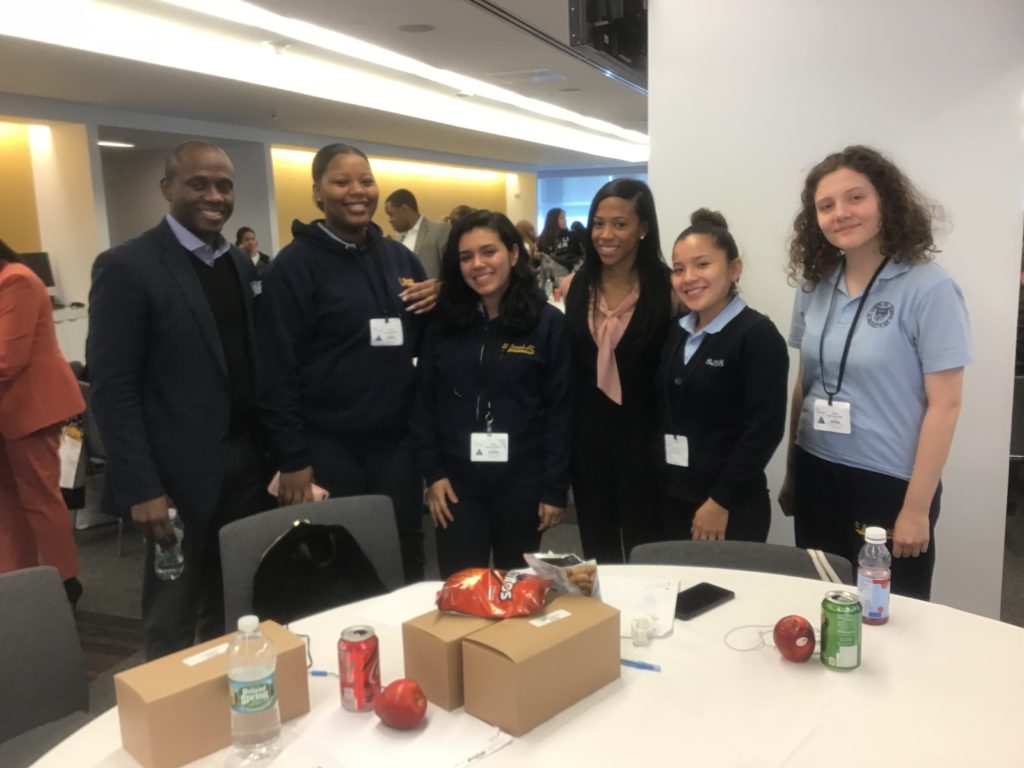 On Friday January 11th, National Honor Society students from St. Joseph High School were invited to attend BNY Mellon's Young Women's Leadership Conference through our partnership with Junior Achievement. Students from Cathedral High School and the High School of Applied Communication also attended.
BNY Mellon is a leading global investment firm with numerous initiatives to support women in positions of leadership within the company, and to increase access to STEM education for young women. During the welcome for the conference, the moderator explained to the students some of BNY Mellon's history and provided an overview of their present business model. The first hour and a half of the event was devoted to Personal Branding: Telling Your Story, Networking and Social Media. Afterwards lunch was served and the students got to know their mentors better. The final hour and a half was a panel discussion on career and education paths; each table was encouraged to ask a question.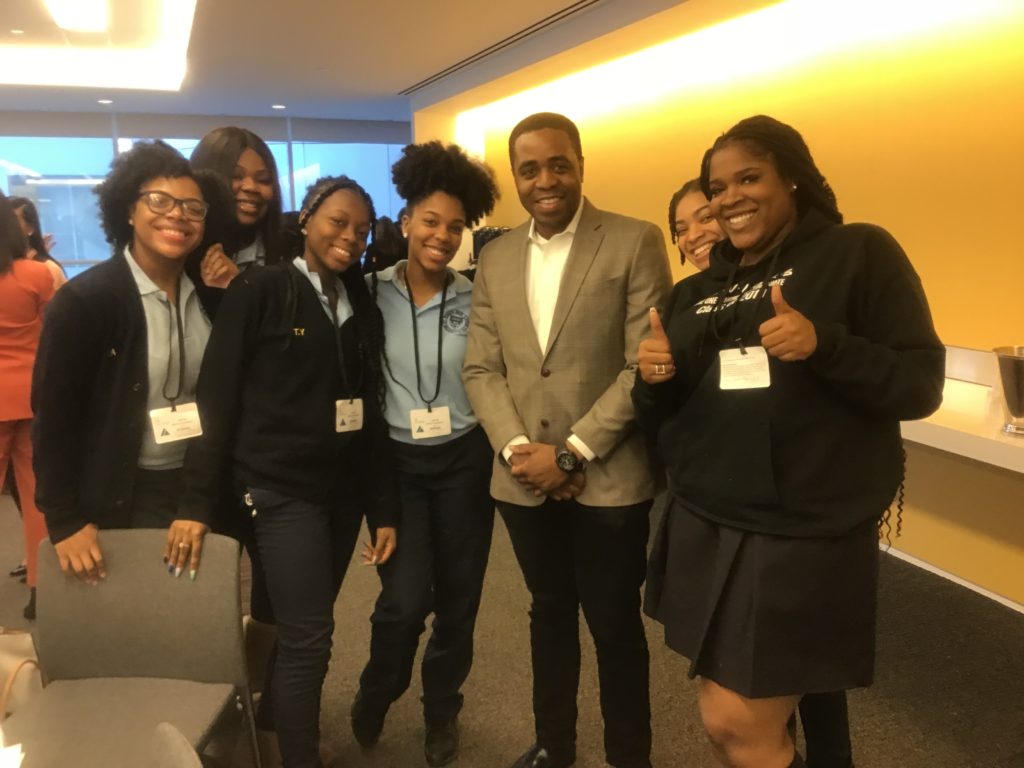 SJHS Junior Jayda Grant, a recent NHS inductee, hopes to become the first surgeon in her family. Doctors and nurses run in her family, and she hopes to take this path a step further. "The mentorship from BNY Mellon really gave me a great wake up call, helping me to see that I'm not a little kid anymore and that I need to start getting my act together. I learned that I need to start thinking about the future and where I want to be. They also gave me good advice and internships that I need to look into."  
Jayda hopes that more SJHS students will have the opportunity to benefit from this mentorship program in future. To younger students she suggests, "Don't be afraid of the late nights, and always complete assignments to the best of your ability. Teachers are there for you to ask questions, so don't be afraid to ask. If you need a day for yourself or that extra nap take it! Your mental health isn't worth all this stress. Always be respectful even when it's hard. Just ultimately try your best, even if you don't make it in one area, keep trying to excel in other things."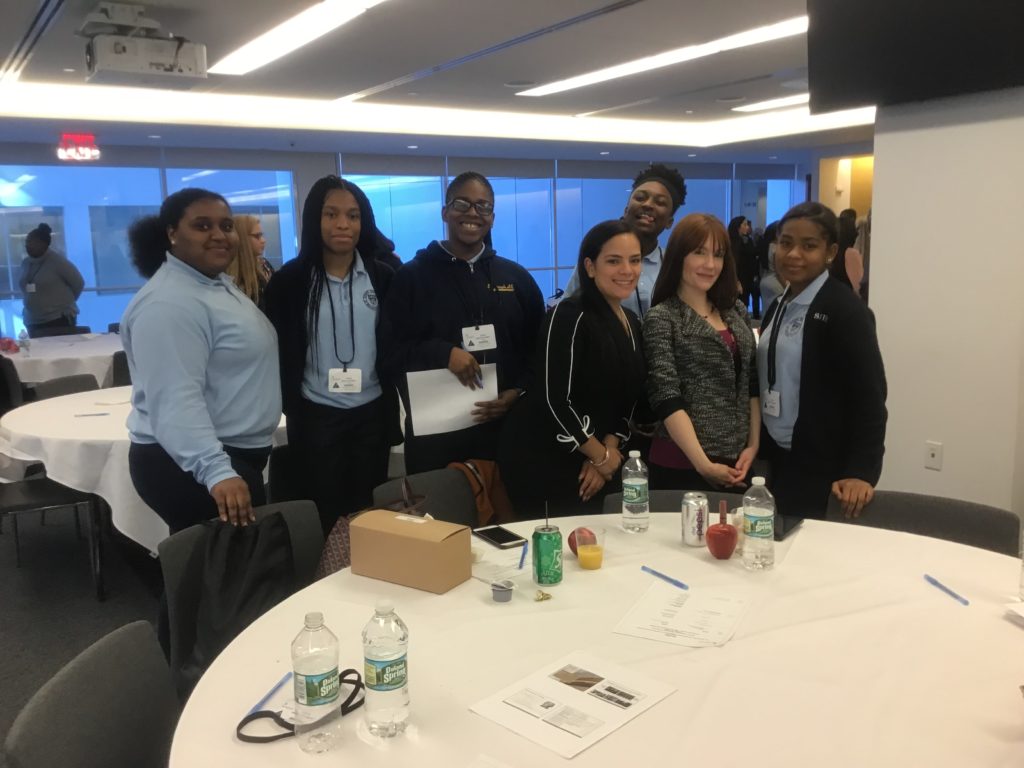 Jiawen Pan, a junior who hopes to study business and work in hotel management. "I was inspired by the BNY Mellon employees" she explains; "they know exactly what they want, and they made me start to think about my future." She was surprised to find so many women among the mentors present; "I thought the majority of the mentors might be males but actually there are a large number of female mentors and they are from different countries." Her mentor suggested that she choose a major that could open the door to many fields, so she doesn't feel trapped in just one area. Another piece of advice she recieved was to work on growing in empathy toward others, as this is a crucial virtue in the business world.
Juniors Leilani Tochimani Solano, who hopes to study law and work in criminal justice, and Angelica Martinez, who plans on becoming a dentist, were also in attendance. They found advice about saving money and establishing good spending habits to be particularly helpful. Like Jiawen, they were intrigued by the way their mentors spoke about the need for empathy. Leilani explained, "If you work at a bank and need to speak with a frustrated client, empathy can help you help that person calm down by allowing you to see the situation from their perspective." They also had advice of their own to offer younger students: "Don't pay attention to drama, focus in school, and choose good friends!"

In future we hope to continue our fruitful partnerships with Junior Achievement New York and BNY Mellon as we keep supporting the young women of our school in their academic and professional efforts.