Perhaps you have heard of the annual March for Life in Washington D.C.? Ever since federal abortion legislation was passed in 1973, huge crowds have gathered at the nation's capital to protest in favor of respect for the lives of unborn humans. As the years have passed, rather than dying out, this protest movement has gotten younger; nowadays it is common to see a sea of buses packed with high school and college students pulling up, often in the freezing cold, to march and pray for an end to legalized abortion.
This year, Mrs. Parris-Strigle brought seven students, all CSJ leaders, to the March, joining a large group of all ages from schools and parishes across the Brooklyn-Queens Diocese. Mrs. Parris-Strigle was struck by the peaceful and joyful atmosphere that characterized the entire trip; on the ride there and back, everyone joined in prayer together, and during the March itself, it was clear that rather than purely protesting an injustice, the attendees were marching for something great and beautiful – the infinite dignity of human life at all ages.
SJHS senior and CSJ Leader Luz Castillo, one of the March for Life attendees, was excited to meet people from all over the country and all different walks of life present at the March. She felt that in a deeply divided time, the March represented a surprising unity among people of different religions, cultural backgrounds, political convictions, and ages, all dedicated together to advocating for the dignity of human life. For Luz, this issue is very personal, as her own mother chose to continue her pregnancy despite lack of support from her partner at the time; "Before I was born, if my mother had not advocated for me," she stated, "I would never have been born and I would not be here today."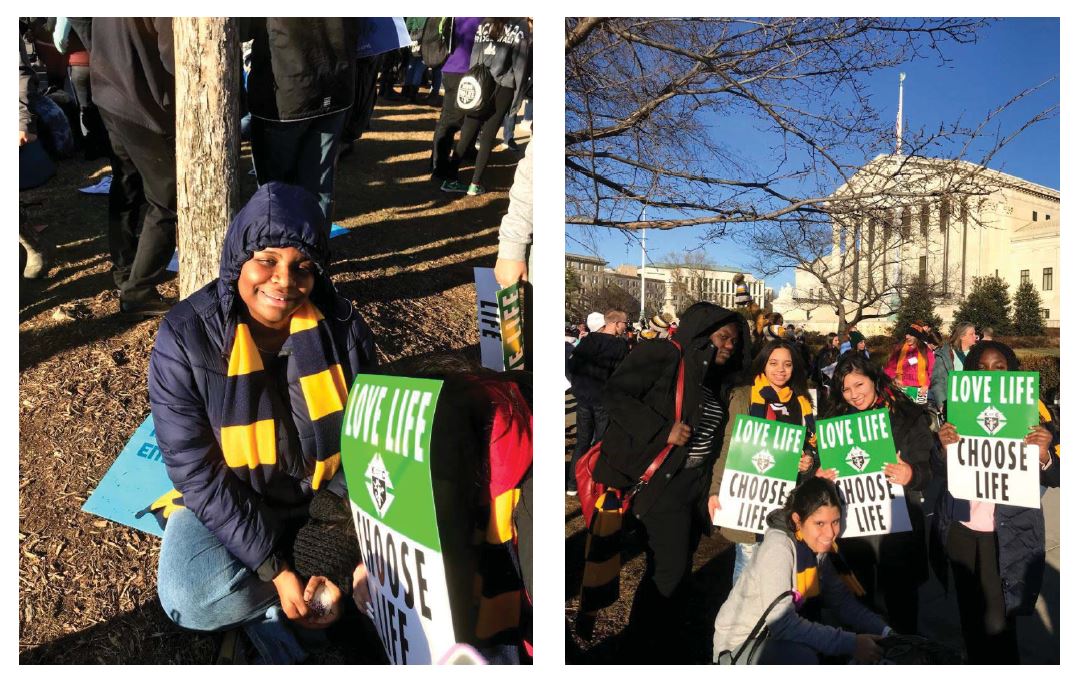 Gospel Values and Empowering Women – Our Mission in Focus
Regarding spirituality, the core values of the Sisters of St. Joseph state:
"Rooted in the Gospel of Jesus, the mission of the Sisters of St. Joseph and the traditions of the Catholic Church, we strive to live and witness reconciliation, unity, justice, peace, and God's inclusive love. We seek union with God and with the sacred community of all God's creation, human and non-human."
Along with this, St. Joseph High School seeks to empower diverse young women to find their voice and grow in their faith and integrity, in order to become the leaders who create a just and peaceful world. With this in mind it is clear that advocating publicly for our sisters (and brothers) in the womb, and for their mothers, is one of the many activities that educates our school community toward a deeper fulfillment of our mission.
For you created my inmost being; you knit me together in my mother's womb.

I praise you because I am fearfully and wonderfully made; your works are wonderful, I know that full well.

My frame was not hidden from you when I was made in the secret place, when I was woven together in the depths of the earth.

Your eyes saw my unformed body; all the days ordained for me were written in your book before one of them came to be.

How precious to me are your thoughts, God! How vast is the sum of them!

Were I to count them, they would outnumber the grains of sand—when I awake, I am still with you.

– Psalm 139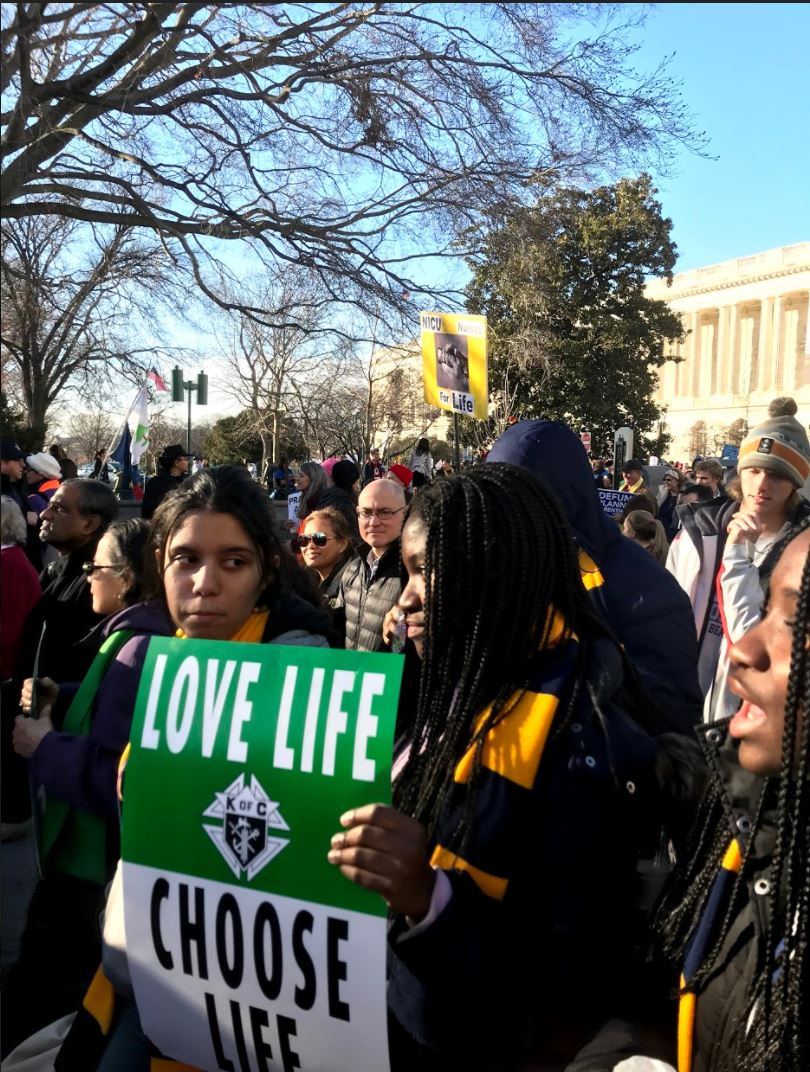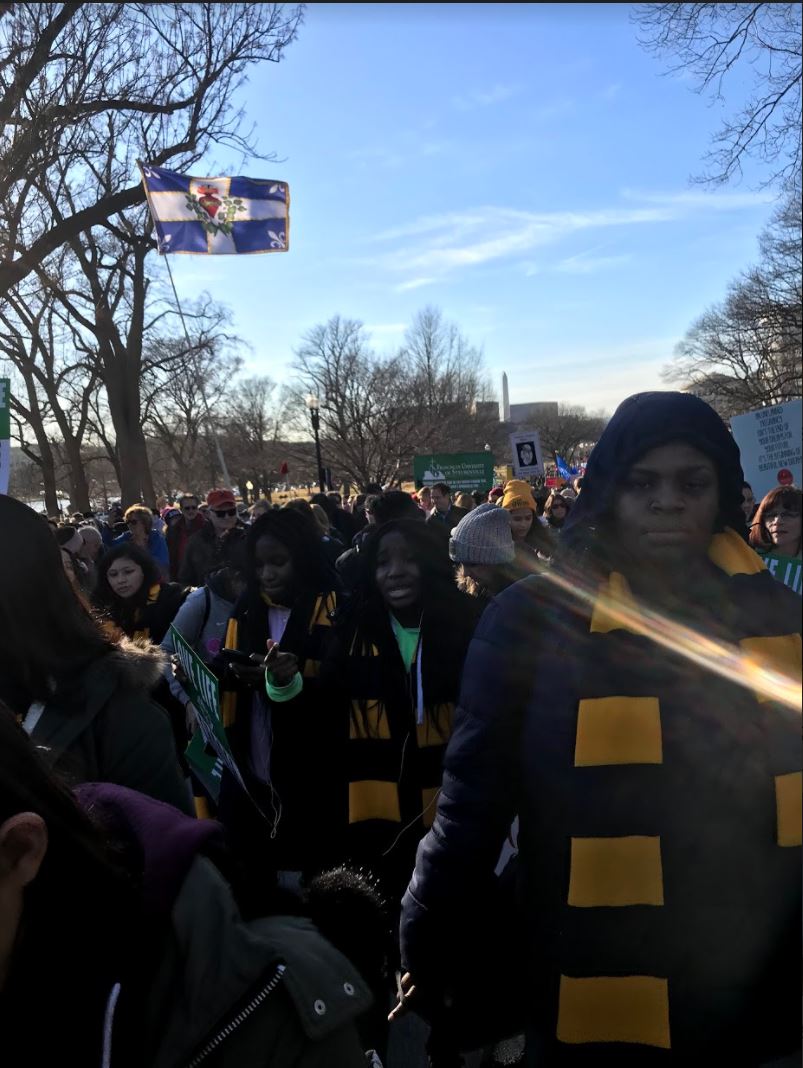 Is Pro-Life Pro-Woman?
The protest against abortion has often been characterized as anti-women, and indeed legitimate criticism can be made toward organizations who would seek to outlaw abortion without providing assistance to women who find themselves with insufficient support to care for their children. Yet in recent years, organizations such as the New Wave Feminists, who advocate for Pro-life feminism, have grown rapidly, attracting a younger generation of diverse, lively and dedicated supporters. For students of Mrs. Parris-Strigle's 11th grade Social Justice class, the conflict between being pro-life and pro-woman is non-existent, as students are taught to see all of these questions and issues as bound together in a holistic reverence for the dignity and goodness of all Creation. For Luz Castillo, when it comes to the divisive questions regarding bodily autonomy and rights, it is very clear; in her understanding, humans receive the gift of life from God, rather than creating it, and therefore our bodies, as well as our homes, must become places of hospitality and welcome for this gift. 
"A single garment of destiny" 
Due to a profound commitment to the Gospel, the history of the Catholic Church in the United States has historically been deeply tied to social activism of many kinds, beginning with labor movements in the 1800s. Pope Leo XIII's famous Encyclical entitled Rerum Novarum: On the Condition of the Working Classes, called Catholics across the world to work within their political and economic systems toward greater justice for disenfranchised workers:
The following duties . . . concern rich men and employers: Workers are not to be treated as slaves; justice demands that the dignity of human personality be respected in them, … gainful occupations are not a mark of shame to man, but rather of respect, as they provide him with an honorable means of supporting life. It is shameful and inhuman, however, to use men as things for gain and to put no more value on them than what they are worth in muscle and energy. 

Rerum Novarum: On the Condition of the Working Classes, Pope Leo XIII, 1891
In the decades that followed, Catholic social activists, including many priests and sisters, have been involved in protesting for civil rights and against racial discrimination, torture, inhumane prison conditions, the death penalty, and unjust wars, in favor of sustainable environmental policies, and on behalf of immigrants, refugees, and victims of human trafficking and sexual violence. In 2016, celebrating 50 years of advocacy for the dignity of the human person, made in the image of God, the U.S. Federation of the Sisters of St. Joseph held a major national conference in Orlando, FL that focused on labor trafficking and farmworker exploitation.
Related: Step Team Honors MLK's Legacy at Major Event
While Catholic social activism has a great deal in common with other social activism movements, what sets it apart is the realization that the deepest and most important revolution and conversion that must happen is in the heart of the protester herself. In the words of Dorothy Day, founder of the Catholic Worker Movement:  
The greatest challenge of the day is: how to bring about a revolution of the heart, a revolution which has to start with each one of us?

– Dorothy Day, Founder of The Catholic Worker Movement
More Catholic Connections
The first right of the human person is her life. She has other goods and some are more precious, but this one is fundamental – the condition of all the others. Hence it must be protected above all others. It does not belong to society, nor does it belong to public authority in any form to recognize this right for some and not for others: all discrimination is evil, whether it be founded on race, sex, color or religion. It is not recognition by another that constitutes this right. This right is antecedent to its recognition; it demands recognition and it is strictly unjust to refuse it.

Congregation on the Doctrine of the Faith, Declaration on Procured Abortion 1974