Math teacher:
Principal Latham
   
Not many students can say they had their Principal as their Math teacher. One lucky class will be taking Algebra with Mrs. Latham this year!
Mrs. Latham writes,
I am excited to get back into the math classroom this year. Most of the students probably did not know that I taught math for 25 years before becoming Principal at St. Joseph High School.
---
Assistant Principal:
Mrs. Antonio
 
x
Following Mr. Touhey's retirement, this year Mrs. Antonio is moving from the Math classroom to the Assistant Principal's office. Over 10 years ago, Mrs. Antonio came to SJHS following a career in finance and engineering. Anyone who has taken math classes with Mrs. Antonio knows that her passion for the subject is contagious! This year as Assistant Principal she will be putting her favorite aspects of math to use in a new way as she works on logistics and scheduling for the whole school.
Mrs. Antonio writes,
I really love what I am doing this year, and every day I look forward to the exciting new challenges I face as I learn about this position. Some people would find arranging the daily schedules for so many students and teachers to be a nightmare, but for me it's a blast! I also love working with Principal Latham to discover new ways to improve the day in and day out life of the school for everyone. While of course I miss my students, I am embracing the chance to continuously grow through doing something new. This year I am also finishing my second Masters, a degree in Supervision and Administration. It is wonderful to be able to continuously contribute everything I am learning in this new position.
---
Social Media and Marketing Teacher:
Ms. Elizabeth Peralta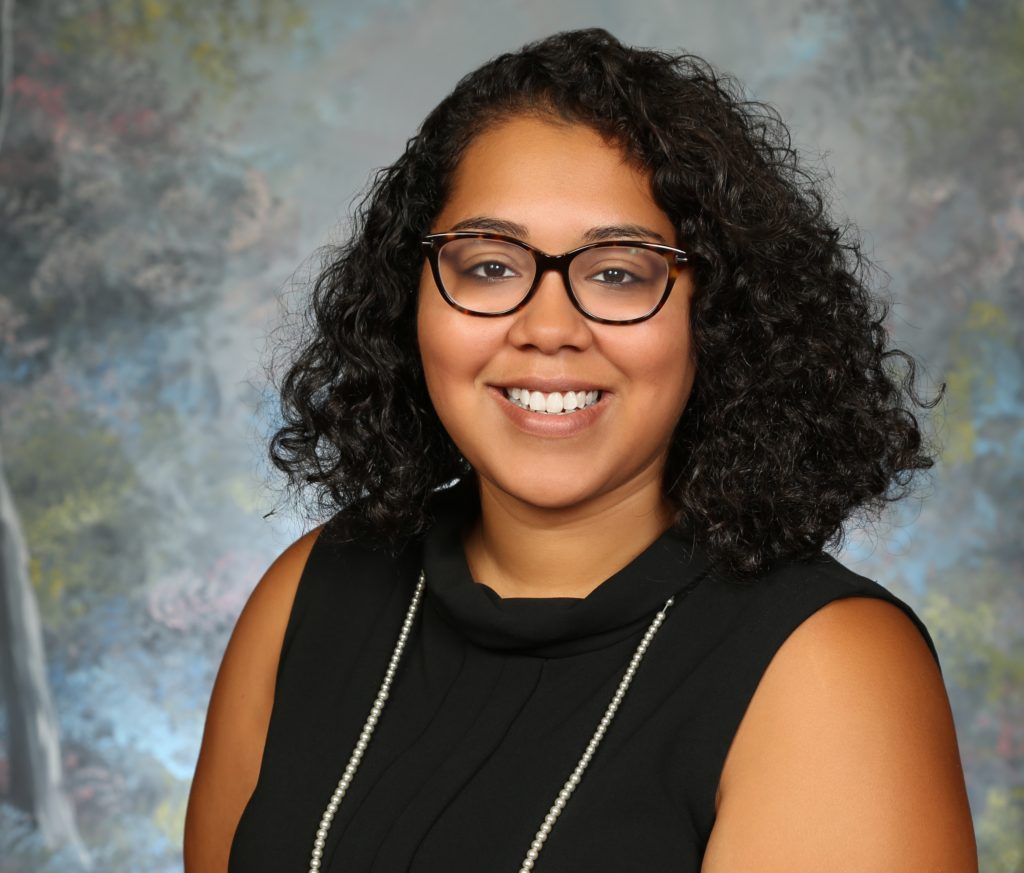 For the last few years, every new freshwoman has met Ms. Elizabeth Peralta at the beginning of her admissions process. Ms. Peralta is joining her marketing skills with her training as a historian into the classroom this year for a new class in Social Media and Marketing. In the age of fake news, this class will place a special emphasis on research, sourcing, and documentation, and will help students gain the skills to communicate what they care about in an honest and positive way.
Ms. Peralta writes,
My name is Liz Peralta, I studied history with a focus in African American history and culture. Before starting at SJHS 3 years ago as the Marketing and Recruitment Director, I worked in museum education. It has always been my passion to find unique ways to interact and educate teens about the importance of history. Especially because I was once a kid who hated history! But through music I learned about a history of the untold. I'm excited to be back in the classroom, especially because I get to share my passion with the students here and learn so much from what they have to offer.
---
Guidance Counselor and Parent Coordinator:
Ms. Amina Worrel
x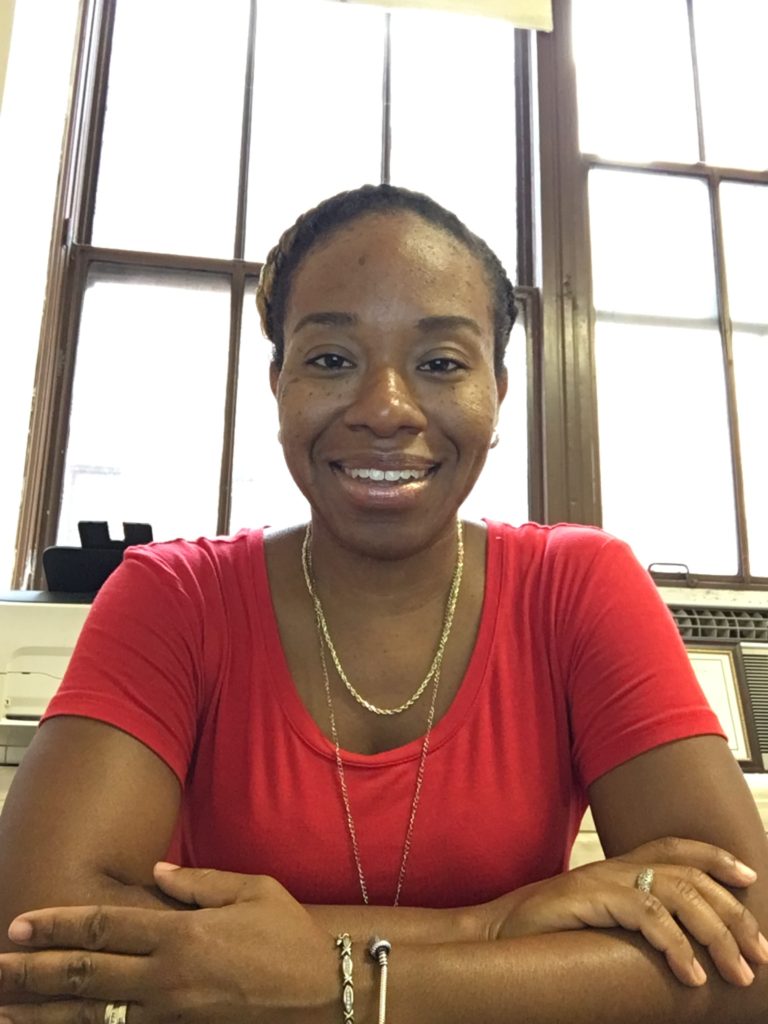 We are sad to say goodbye to Ms. Hickey in the Guidance and College Counseling Office. But in her place will be a friendly face already familiar to many of us: Ms. Amina Worrel.
Ms. Worrel writes,
I graduated from Long Island University with a Masters degree in School Counseling. I've been in the field of counseling for a little over 16 years. I knew from Middle School that I wanted to work with people of all ages in the Counseling field. I love counseling and watching the interpersonal growth of each student.

I'm extremely excited and blessed to work with all students, staff and faculty. It's a blessing when you love what you do and love where you work. I look forward to building impactful and positive relationships. I thank God everyday for the ability to be in a space where I can freely pray with students and staff, a place where we can connect and show the love of God through our work.

I thank God everyday for using me to fulfill his purpose. I come from a large family and was raised to be thankful for every single thing. In good moments to praise and thank God and in sad moments to still thank God for the lesson and the season to come.
---
Writing and Religion teacher:
Ms. Rose Tomassi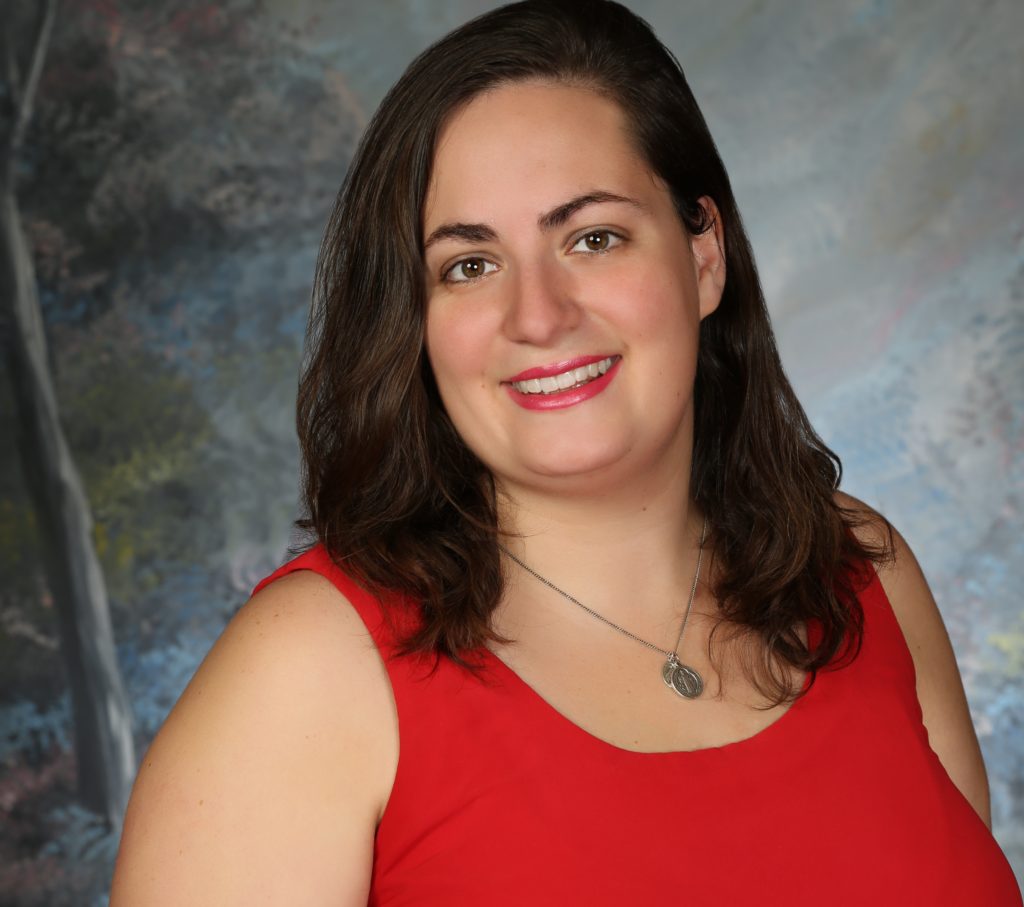 Last year most of us encountered Ms. Tomassi through the school newsletter – either being interviewed for it, or reading it every month. This year she will also be in the classroom teaching Freshwomen Writing and Junior Religion.
Ms. Tomassi writes,
After several years teaching Writing and Literature at various campuses in the CUNY system, most recently City Tech, I am so excited to start teaching at St. Joseph High School. Since starting to work here last year, I have really enjoyed being part of a loving and supportive school community where each student is seen as a whole person.

I am passionate about both subjects that I will be teaching this year. I think that gaining foundational knowledge and fluency in writing and more advanced reading is crucial to learning in every subject, as well as to communicating in all aspects of life. I also think that writing and reading are part of the journey to more deeply understanding oneself and the world that is at the center of education.

When it comes to Religion class, I think that Junior year is one of the most significant years because it is a time, before the college application process starts, when students need to ask the fundamental questions that are at the basis of our need for God: Who am I? What do I desire? How can I be happy? It is from asking these questions in a serious way that we can discover what our hearts are made for, and then eventually choose a path in life that can allow us to fully give ourselves, and fully flourish. Since this class focuses on Catholic Social Teaching, it gives students the opportunity to go more deeply into questions of how a society renewed by the love of Christ can emerge through our collaboration with Him.
---
Grant Writer:
Mrs. Caitlin Black
x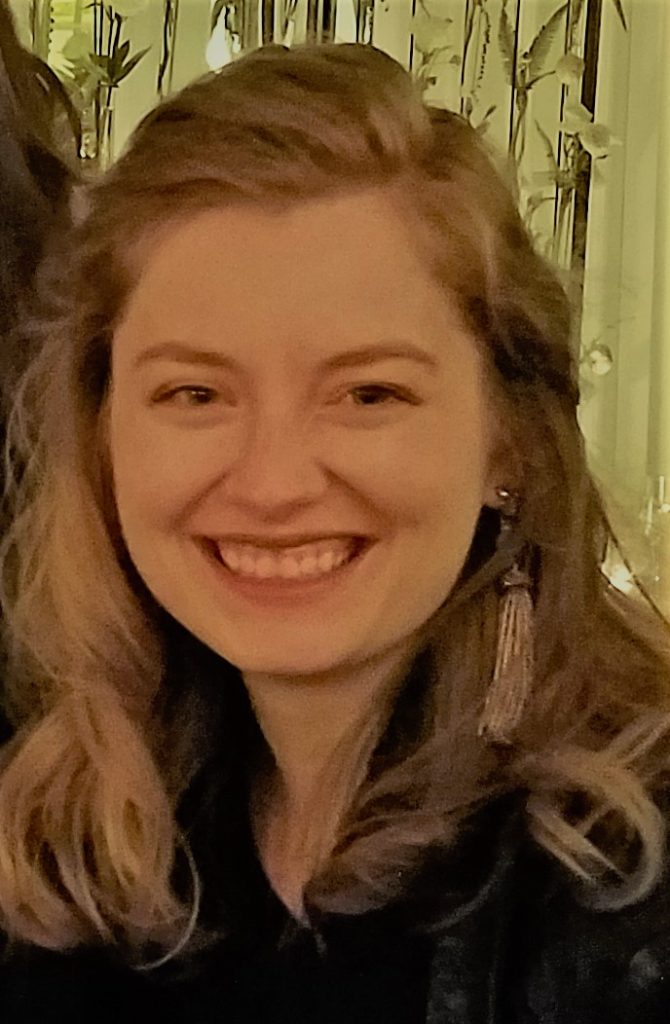 In the Development Office, we welcome Caitlin Black as a Grant Writer.
Mrs. Black writes,
I come to St. Joseph High School from Sotheby's, the major art auction house, following years in the Business Development division. I am committed to using my skills to further the mission of SJHS. As the new mother of a baby girl, I am especially excited to focus on the education of young women!
---
Art Teacher:
Ms. Jenn Cacciola
x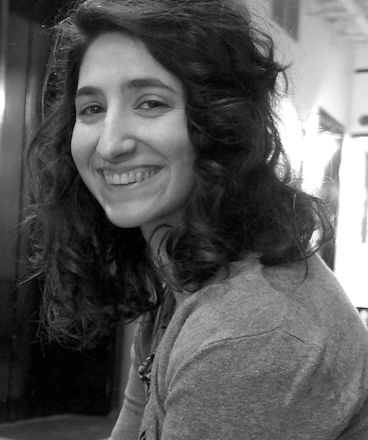 A new face will greet you when you enter the Art Room this year!
Ms. Cacciola writes,
I'm excited to be able to address challenging topics in our culture together with my students through the tool of art this school year, as well as share my own work's questions. I am a visual artist who makes work in sculpture, painting, tapestry, and multimedia installation, and have taught art to students in private schools, museum outreach education, and camp programs. I've previously worked in the field of art restoration and art forensics in Budapest, Hungary and with U.S. art collections including the Hispanic Society of America Museum and PepsiCo Sculpture Garden.

I'm part of the governing body of Openings Artist Collective in Manhattan, where I get to help coordinate art exhibitions and events. I frequently exhibit my work in the city and participate in artist residencies to conduct research for my projects. Students and faculty are welcome to see my solo exhibition at the Sheen Center (18 Bleecker st, NY, NY 10012) starting September 13th!
---
Spanish Teacher:
Mrs. Rosario Campos
x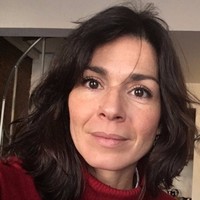 After many years at St. Joseph High School, the beloved Mrs. Quinteros retired last year. In her place, we welcome Mrs. Rosario Campos.
Mrs. Campos writes,
I love languages! I am a Spaniard and Spanish is my mother tongue, and I have a long history of teaching Spanish before coming to St. Joseph's. For me, Language is how we communicate with one another – it is history, it is literature, it is culture – it's how we understand the person standing in front of us. And I love human beings!

The possibility of understanding another person from within their own language and culture is at the center of what it means to communicate. Whether a student is entering more deeply into her own mother tongue, encountering it as a foreign language, or somewhere in between, developing proficiency in Spanish and a knowledge of the many cultures that share this language will endlessly contribute to her bright future as a leader in our society.

This year as a new teacher at SJHS, I am so excited to hear the students' voices – their opinions, their thoughts, their stories, what they think about the heroes and villains of our history – in Spanish!
---
Biblical Interpretation Teacher:
Ms. Nichole Prime
x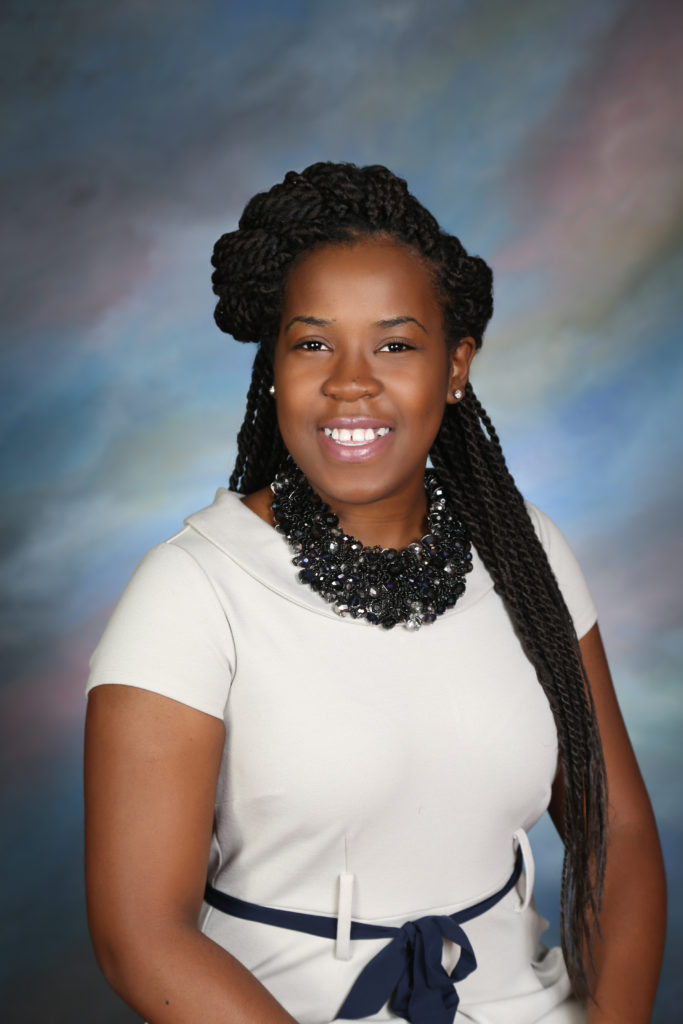 Ms. Prime is known to many as the Dean of Students and the STEP Coach. But this year, she is returning to the classroom to teach a Senior elective in Biblical Interpretation!
Ms. Prime writes,
I am currently pursuing my Masters/PhD in Christian education and my main focus of study is implementing biblical doctrines into educational curriculum. I have taught bible studies in church settings but this is her first time in a Religion classroom.

I am excited because I believe that religious education is an essential part of a students cognitive development. 2nd Timothy 3:16-17 says "All Scripture is given by inspiration of God, and is profitable for doctrine, for reproof, for correction, for instruction in righteousness, that the man of God may be complete, thoroughly equipped for every good work." My hashtag is #studentsneeddoctrinetoo.

I am excited to see the Bible come alive in a classroom setting through papers, projects, exams etc. I am excited to see the love of God ignited in students so that it will transcend into every area of their lives.