Members of the St. Joseph High School community suddenly lost our beloved principal, Mrs. Caroline Latham, on February 26th, 2019. In the weeks following her death, we were blessed to have assistance and guidance from our chaplain, Fr. Joel Warden, as well as grief counselors from Calvary Hospital and the Program for Human Development (PDHP) for the Diocese of Brooklyn. We also welcomed to our campus Reverend Briana Whaley, mother of freshwoman student Elliana Whaley, and  Director of Pastoral Care at Grafitti3 Ministries, who offered prayer and spiritual counseling to students in our school chapel. We remain immensely grateful for the outpouring of support that we have received during this painful period.
On Thursday, March 21st, St. Joseph High School students, families, faculty, alumnae, and members of the Sisters of St. Joseph joined Principal Caroline Latham's husband and son to remember her life and legacy. The beautiful memorial service was planned by a committee of SJHS faculty and staff members, and included music, dance, and stories and memories from Mrs. Latham's life shared by several members of our community. Here we share several of the remembrances that were given in her honor at the service.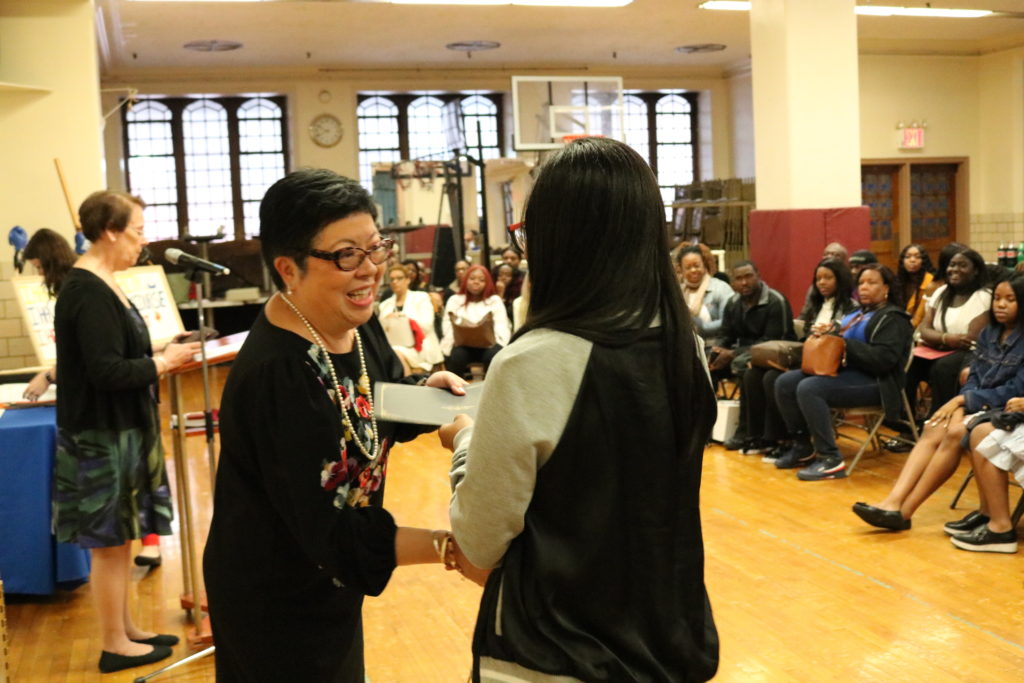 Armani Meza, Grade 9
"At first it was a hard getting used to calling her Mrs. Latham because to me, she was always Caroline. She was always very enthusiastic and excited about my future and very proud to have me join St. Joseph's as a freshman. To my mom, my grandma, my uncle and me, she was family. I don't think I've ever met anyone so kind. She always lit up the room with her cheerfulness. She treated others with such kindness and respect and saw so much potential in us girls. She believed in empowering young women, everyday. Each morning as she greeted me, I'd walk up the stairs feeling more confident. She had a way of uplifting me. She welcomed everyone and made sure they knew they belonged. I've never met anyone like her. Losing her is a loss to the world because there aren't many people like her. I hope to be as passionate, kind and happy as she was. And even though she is not physically with us, her presence will remain vibrant in my heart. She paved a way for my future and gave me this opportunity to stand here in front of you. I know Caroline changed many lives and she certainly changed mine."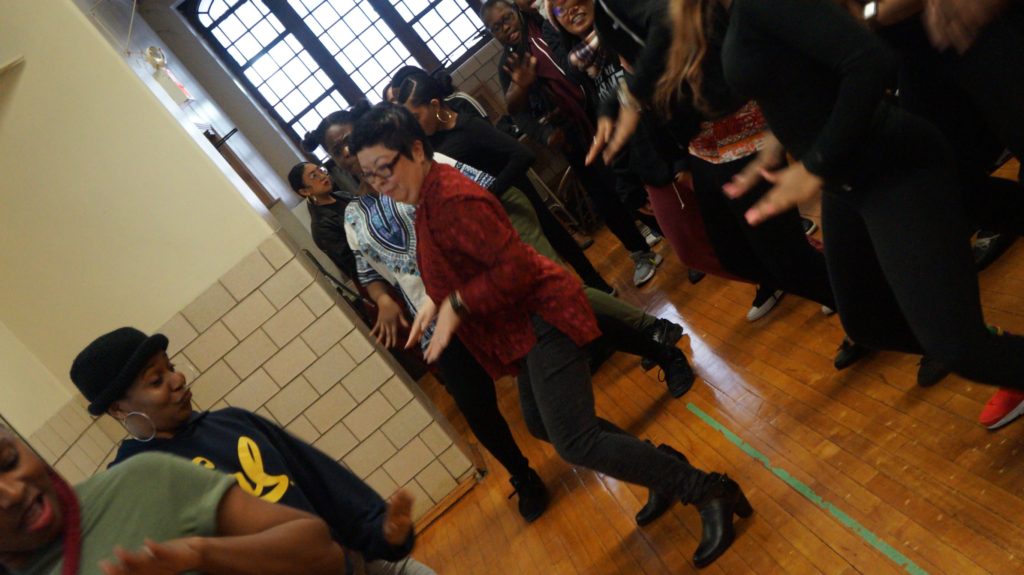 Daisy Fuentes, Grade 11
"Grieve not nor speak of me with tears but laugh and talk of me as though I were beside you I loved you so . 'Twas heaven here with you." When I first read this quote, My heart felt heavy. Our beloved principal Mrs. Latham made our school a brighter place. I entered St Joseph High School in 2016 the same year she became principal. On our first day, she was excited to work with us. She treated all of us not just like her students, but like her daughters. During my Sophomore year, my family and I were going through a difficult time. My mom came to the school and talked to Ms. Latham. She explained our problem. Ms. Latham was kind enough to give my family and I support. She is the reason I am still in this school. Later that year, she surprised the Speech Team at one of our tournaments. She brought us Munchkins and sat with us. She told us she was proud of us.
I remember in the beginning of Junior year, I was again going through some problems. She called me to her office and sat me down. We both sat in her office chairs. She didn't sit in her desk; she made our conversation feel personal. She sat next to me and offered me a mint from the bowl she always had ready. We talked about the problem I had going on, and she talked to me like I was her daughter. She gave me advice, and she gave me a small lecture as well, just like a mother would.
At the end of first quarter, I went to go see who made honor roll. She walked out of her office and stood next to me. She asked me why I didn't make honor roll. I whispered "Math". She looked at me in my eyes and told me "It's okay, you have three more quarters. You can do it." She was right. Second quarter, I passed my math class and I made honor roll. The rest of the year we would see her on the second floor and she was so excited to see all of the girls. She would give us the brightest smile and say good morning.
I speak for the whole junior class when I say that we made beautiful memories with Ms. Latham. Even the little memories were special: our Freshman and Sophomore retreats and when we went to our Junior retreat. It hurts my heart to think about our upcoming Junior Recognition day. I would never have thought that we wouldn't have her speak at our Junior Recognition. However, moving on, she will live in our memories. She will forever be our angel, and our source of strength.
Akil St. Louis, Fab Lab Teacher and Track Coach
Dear Mrs Latham,
A title she never wanted to be addressed by. But, out of respect and gratitude, I never wavered, and without hesitation I called her Mrs. Latham and never Caroline. 
Every morning I looked forward to the click and the clank noise of her heels and her "Good morning Mr. St. Louis" racing into room 201 (or many may call The Fab Lab). Mrs Latham not only was a woman who cared about STEAM education, which was her pride and joy; she was also a competitor. Often times, especially on a Monday when you're down in the dumps (because of course it's a Monday), she would ask about the class I taught, or about how the weekend's track meet went, and did we win?
But one particular time it was different. I wasn't down about it being a Monday, but I was down because I just filed for divorce. She asked me to come into her office. Mrs Latham sat me down and gave me this talk that I would never forget, and from that day forward all my pain slowly went away.
As a act of solidarity, I thought it would be a good gesture to sneak into her office and take her coveted miniature Jets helmet. I was going to this event the New York Jets charity were holding, and leaving the event I happened to get all the players and owner to sign it. The next day I placed it back on her desk. She had no idea that I took it and placed it back until I told her. She jumped in glee and did her jovial Mrs. Latham dance Mrs Latham.
With that being said, everyday upon arriving to school after her untimely death, without hesitation, I say Good Morning and Good Night Mrs Latham.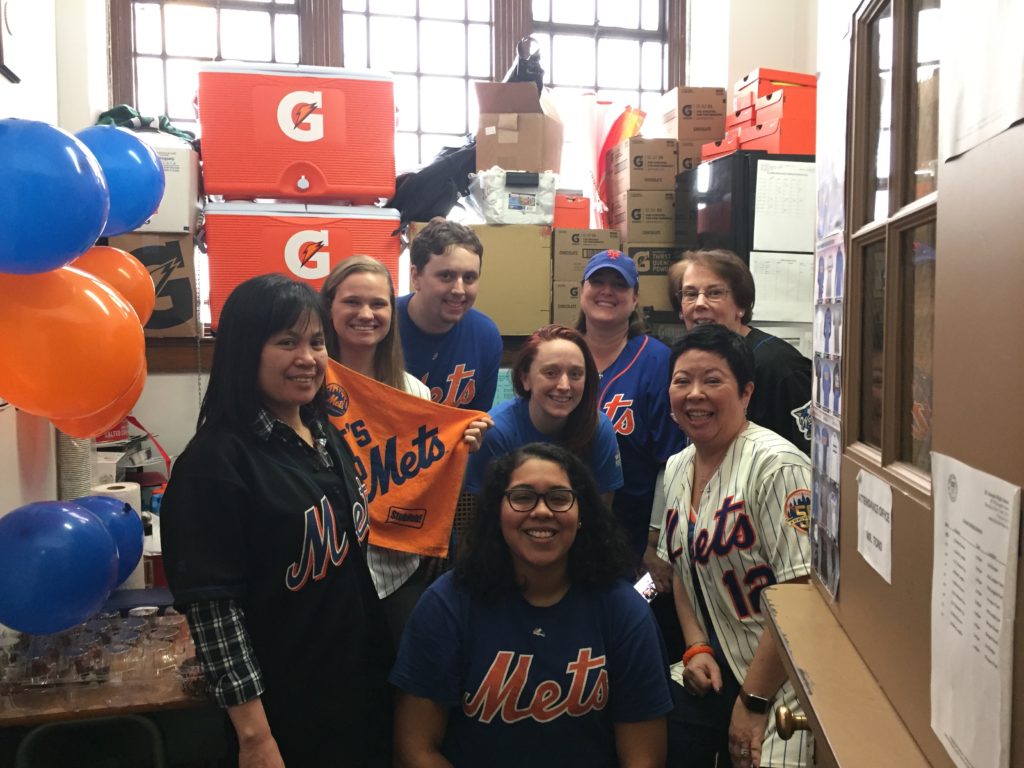 Elizabeth Peralta, Director of Admissions & Marketing
I've spent the last weeks thinking about Caroline, thinking about her gaze upon life. Recently, I've gotten to work in the mornings in a rush because the train was late, and I was stuck waiting for the elevator. And as the frustration began to simmer in my stomach, I immediately calmed because I remembered Caroline and thought about how she would have probably told me, with the bounce of pep in her step, "Let's get our steps in Liz!" 
Caroline loved me, she believed in me, the same way she loved and believed in all of us. That's what I read on that wall of memories that was posted in front of the elevators.
I stare at that wall day after day, I read things like 
"She had a big heart." 
Or,
"She forgave me and gave me a second chance."  
Or,
"Caroline heard me curse and instead of getting in trouble, she asked me if I was okay."
(I wanted to ask her if she let her own kids get away with that!) Or,
"Caroline loved me, but also my whole family."
Caroline was really important to me and to many others because she lived her life looking at people's hearts. She spent time looking at your potential and not your mistakes. She spent time envisioning a St. Joseph's that others told her NOT to believe in, and when she made things happen she shocked Brooklyn… but gained followers. Kind of like the apostles. 
Following Caroline these last three years has been a blessing. A job that was supposed to be one year and then "I was going to back to the museum world" turned into the last three years of learning what it means to be a leader, to be a woman of faith, to have that gaze upon life that Caroline so often showed us. And because of Caroline I fell in love with the mission of SJHS and the vision that she had. So how could you ever leave that?
You know you have a great boss when she texts you on a weekend to tell you to stop working. Or when she takes you to a Mets game for a work event and they win! (And just so you know I've probably been to 100 Mets games and they've lost them all, so I guess she's my lucky charm).
But you also know you have a great boss when you can tell her your greatest fears in life, and she reminds you that life is about being brave and facing everything. Caroline has inspired me to be a better woman, a better educator, and to continue her work in her honor. At first I thought I lost my mentor, but the truth is that her work and her legacy will live on for the rest of our lives because we are now apostles of Caroline's work, who ultimately worked under the mission of this school. And that has always been for Christ. 
So give, give, give! Because Caroline was a lover and a giver. And if you live in this way, the only way to look at life is constantly in wonder, constantly with this indescribable gaze that will lead you to the most beautiful journey you've ever taken. How do I know? Well just look at the life Caroline lived, And look how much she was loved. So remember always she believed in you all, more than you will ever know. We weren't just coworkers, students, colleagues, friends; we were her family.
Alyssa Ascencio, Alumna, Class of 2018
Mrs. Latham was the nicest, most caring, and most forgiving person I ever met. I remember when she first became the principal and I was a Junior. I made a very dumb mistake and honestly I should have gotten in so much trouble for it. When I finally confessed what I did and apologized, she looked at me and told me that we all make very dumb mistakes. This showed me how much of a caring person she was. After that, she never judged me for what I had done. She never saw me as the girl who made that mistake. She was not only like this with me, but so many other girls. That is one quality we all loved.
From then on, I'd just always go into her office, say good morning, and ask for some mints that she kept in that bowl. She always had a smile on her face. After graduating, I'd come visit SJHS sometimes. It never came across my mind to come say hi to her because I would just tell myself, "She's not leaving, you can say hi to her the next time"… and now here we are. I really, really wish I had never taken her presence for granted. I read somewhere that as much as we want to question why God took her so soon, we can't. We can't question why God does things. All I know is that her smile, her kindness, and her heart was probably needed up there. I never told her this to her face but I just want to say that I really do love her. I know that she's watching over us and I know that we are going to be okay. I promise.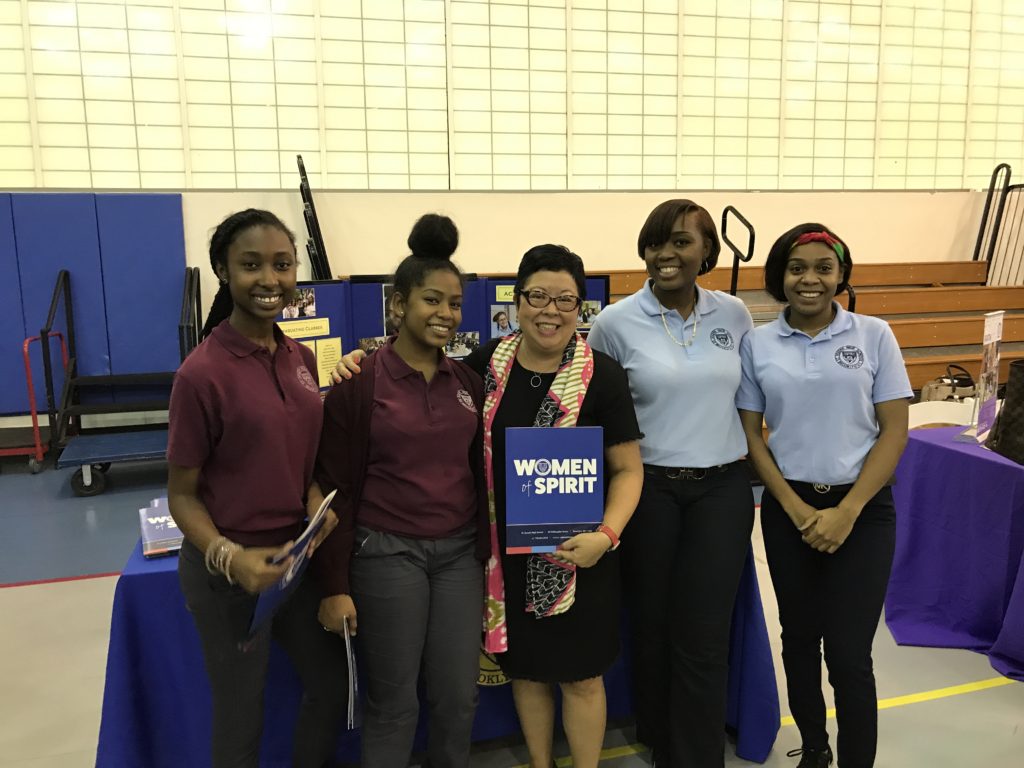 Kenesha Louisma, Grade 12
I really don't want to believe that we lost Mrs. Latham. I can't wrap my mind around it. She was a very beautiful person.
We cannot thank Mrs. Latham enough for everything that she did for the SJHS community. She literally poured her life into this school. She was so proud to say that she was the Principal of our school and a Lady Cougar. She gave many people opportunities and is the reason our school has reached the level we are at now. Some of my favorite teachers and faculty members that I have connected with would not be in my life if it weren't for Mrs. Latham. She was everyone's biggest fan and only wanted each of us to be the best person we can be. She was a great listener and very understanding.
I'm proud to say that Mrs. Latham was, and always will be, my Principal. Her bright and wide smile brightened any room. She was always positive and saw the bright side of any situation. I was able to just walk into her office and she always greeted me warmly, offering me some of her mints that tasted better than any other mints!
Mrs. Latham was such a good person, and she didn't deserve to leave us so early. But my mother always told me, we cannot question what God allows to happen. Mrs. Latham is in a better place and I promise to make her proud of me when I become the great pediatrician that I told her I will be.
Nobody can replace her in our lives nor the impact she had on our lives, but I pray that the next principal leads our school on a similarly great path as she would want them to do.
I pray for Eric who is graduating in June as well. I pray that he and the rest of the family stay strong and that he will become very successful. Mrs. Latham always told us about you and how excited she was to become a college mom. I pray for your prosperity.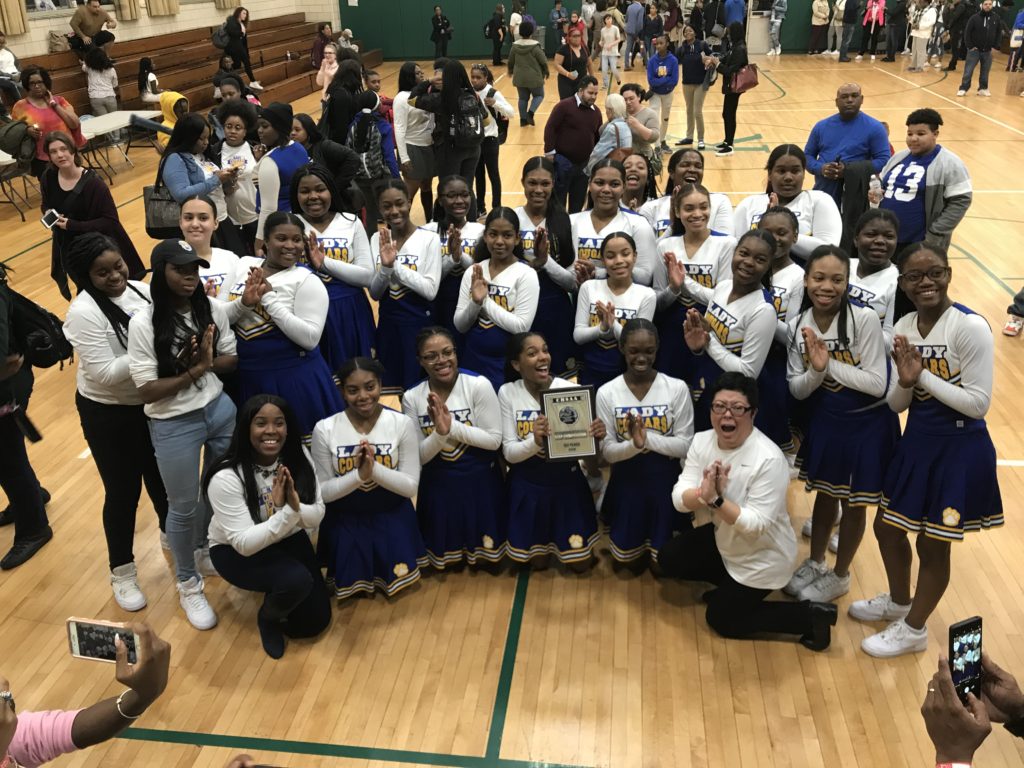 Mike Toro, Athletic Director and Basketball Coach
Memories 
The pain we feel yes it hurts 
The countless times you put us first 
My first impression was you were going to be a great leader 
Only a few days in and I became a believer 
Having you not only as a boss but also a friend was a dream true 
And today I share my memories of you 
J – E – T – S – JETS – JETS – JETS 
She liked the worst teams in NY you know like the Mets 
Playing at the Barclays Center the court of dreams 
You'll never know how much that means 
Coming with my team to Virginia and Delaware 
Showed just how much you really care
Bonding with my team going out to bowl
Seeing how competitive you were never gets old 
You & I learning how to Step in the gym 
You getting mad when your teams don't win 
Pushing me to go back to school and finish my degree
You have no idea how much that means to me 
Calling me in your office saying we need to speak 
As our girls would say had me weak 
Standing up doing your little hop
Screaming at the games you'd never stop
It was your mission to support in your own way
Showing love and care each and every day
Awarding our dancers with roses after they'd perform
Being there for the steppers as they receive their uniform
Watching you celebrate as your teams conquer defeat
Wish you were there at the last track meet
Six championships
Under your leadership
The last three years have felt like a dream
Watching you support every team
It wasn't just the sports teams that you loved
We can't forget about your beloved clubs
You always were committed 
I have no clue how you did it 
Thank you for all that you have done for our girls 
From the SJHS community you mean the world 
So Caroline Latham thank you for everything you've done for me
Thank you so much for the great memories 
Kaiyen Marcelli, Grade 12
We are her this evening to talk about the best principal I have ever had in my whole life – a loving, supportive, encouraging and understanding principal; someone who loved her job and loved us for who we really are. Mrs. Latham always gave us a second chance to do better and be our best selves. I know that she did this with everyone; she would write little words of encouragement on our report cards. And I don't know about anyone else, but I really loved those notes. Coming from someone who doesn't always do the best in school and has come close to forgetting high school as a whole, Mrs. Latham is the reason I am still in school today. She always encouraged me to keep going. Now, look, I am a senior in high school. Thank you so much, Mrs. Latham.
When I was a freshman and first started on the Speech Team, it seemed very much overlooked. But when Mrs. Latham came, she uplifted the Speech Team and loved the Speech Team and fought for the Speech Team. We, especially the seniors on the speech team, are very grateful that she fought on our behalf.
I am a senior; a member of a class that we all know she loved. When we had a bad year, she stuck with us and believed in us and said that we would rise up and do better. And we did, and we will graduate in 2 more months. Even though Mrs. Latham won't be there in person to see us graduate, she will be there is spirit. I know for a fact that she is proud of us and how far we have come as students, people, and most of all, young women. Thank you, Mrs. Latham, from the senior class, the Speech Team, and myself for giving us the unconditional love we so dearly needed. We will miss you so much. We love you. Thank you.