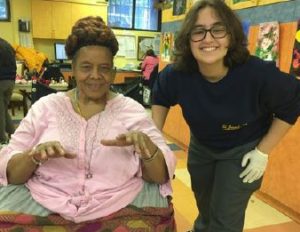 Founded by a high school student nearly 20 years ago, Glamour Gals is a national organization that seeks to facilitate inter-generational friendship and foster compassionate teen leaders, bridging the gap between young and old. Glamour Gals provide manicures and pedicures to residents in senior homes across the country, taking time to get to know them, learn about their lives, and share their own questions and experiences. Our chapter at SJHS just celebrated our eighth anniversary.
"It's good for the elderly to communicate their wisdom to the young; and it is good for the young people to gather this wealth of experience and wisdom, and to carry it forward, not so as to store it in a museum, but to bring it forward addressing the challenges of life." – Pope Francis, February 2014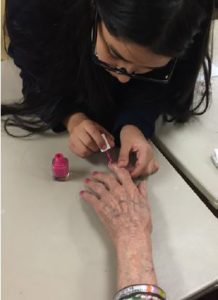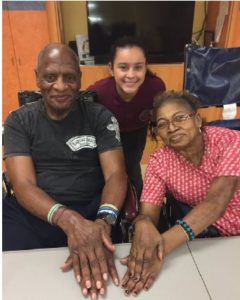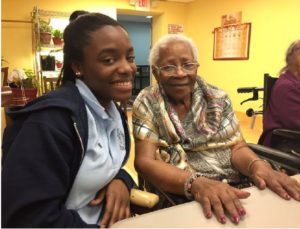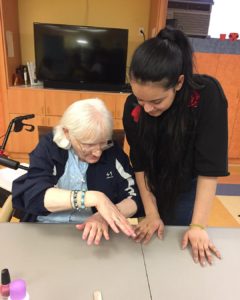 Describing her Glamour Gal experience, SJHS student Maria Constable writes, "When I told [one of the residents] my name she said, 'Wow! You have a beautiful name, and your earrings are also beautiful.' She made me feel really good about myself, showing me that I was beautiful and intelligent…One of [the residents] was even showing off her nails. I felt so proud. She said that when her family comes to visit she will greet them with a big 'Hi Darling,' and show off her nails.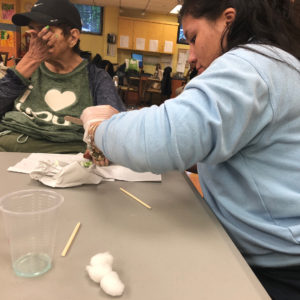 Maria continues, "I believe that Glamour Girls allows us to give back to our community, and it makes me feel happy to know that I brightened up someone's day. At first I joined the club because it offered community service, but I remained part of the club because the smiles of the women showed me that what I was doing was worthwhile. I really think more people should consider joining the club to give back to the elderly and make them happy. You can also learn a lot about life in the past and you can grow as a person with the advice you get from the residents."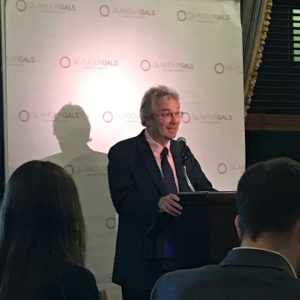 Mr. Touhey, SJHS Vice Principal, has been instrumental in fostering the ongoing popularity of Glamour Gals at our school. Last year, he was invited to speak at the annual Glamour Gals gala about the powerful impact that the organization has had on the lives of students at SJHS.
Service as Learning, Through a Student's Eyes

by Mia Weissman

Though I have not been in Glamour Gals the longest, I can say I have learned my fair share of stories and lessons from visiting people in senior homes. The Glamour Gals are a group of students who volunteer to visit people in senior housing. We paint their nails and give manicures, but that's not the main reason why we go there. We go there to accompany the seniors who are living there, talking with them and learning many things about them. At least, that's why I go. Some people might see it as just getting service hours, but I go there not only for that reason. I have always enjoyed listening and learning about other people's stories and at Glamour Gals there are so many people with so many life lessons that everyone can learn.

At my latest sessions of going to Glamour Gals, I met this lovely woman named Mary. She was hard of hearing and got lost in thought quite easily. She had always worked as a secretary ever since her teen years. She met her husband when she was in her early 20's, but before that she and her father traveled all around the world, including most of the United States and European cities such as Rome and Paris.

One of Mary's most common phrases is, "What are you gonna do about it". Though it wasn't an actual question towards me, she would say it during stories about her husband and son passing, and she would also say it when discussing about how her body hurt. She knew it was nothing more than the inevitable. One thing I have learned from her is to not sweat what is going to come to you. It's going to happen sometime so there's no need of worrying about it. It reminds me that I have such a long life in front of me, and how there is so much I haven't learned yet. And I know I would've never even thought of or considered some of the life lessons they teach in the senior center, even though they probably don't even realize how much of an influence they can be. The most important message I have to share is that Glamour Gals is not only a place of service hours, but of learning as well.