SJHS Alumnae Luncheon Celebrates Great Memories and Bright Futures
At our recent annual Alumnae Luncheon, alumnae from the classes of 1950 through 1988 shared in a day of fun and fellowship, reminiscing about their own years as students at St. Joseph High School while having the chance to meet current students and to learn more about the present and future of SJHS.
---
Join us on social media!
After a special liturgy at St. Boniface, Alumna Ann McDermott ('77) and Admissions & Marketing Director Elizabeth Peralta gave a presentation about how to keep up with current SJHS events on social media, initiating a weekly social media competition between classes! Alumni were encouraged to engage with the school's social media platforms using their class year in order to "Conquer the Hashtag".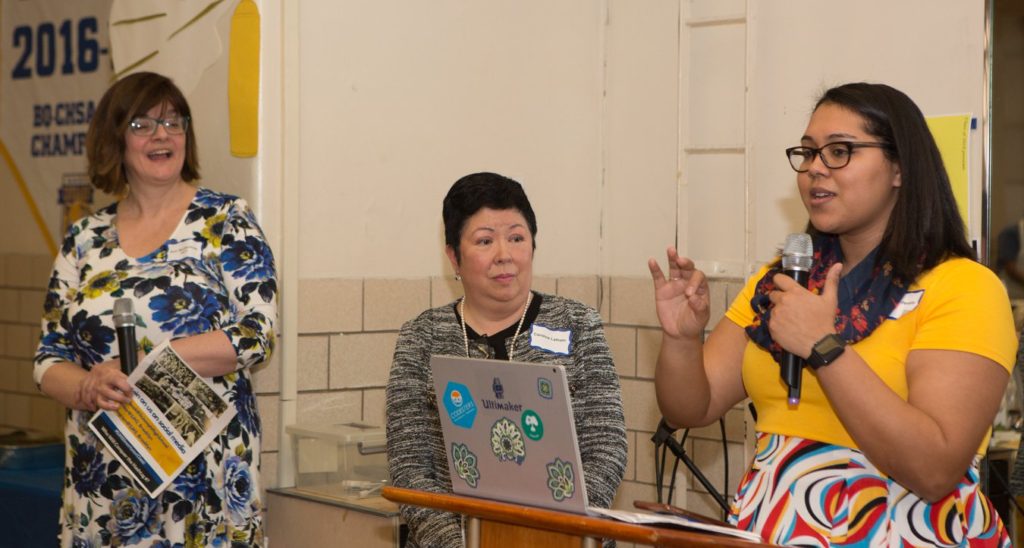 ---
Alumna honored with scholarship bestowal  
Another special moment from this year's luncheon was the granting of 4 scholarships in honor of Mary Vancevicius Guagliardo, class of 1976, who sadly passed away last year. In her memory, her family and friends awarded  $2000 scholarships to four SJHS students, Coralie St. Surin, Kayleah Serrano, Parmela Leveille and Yael Barber Lafon.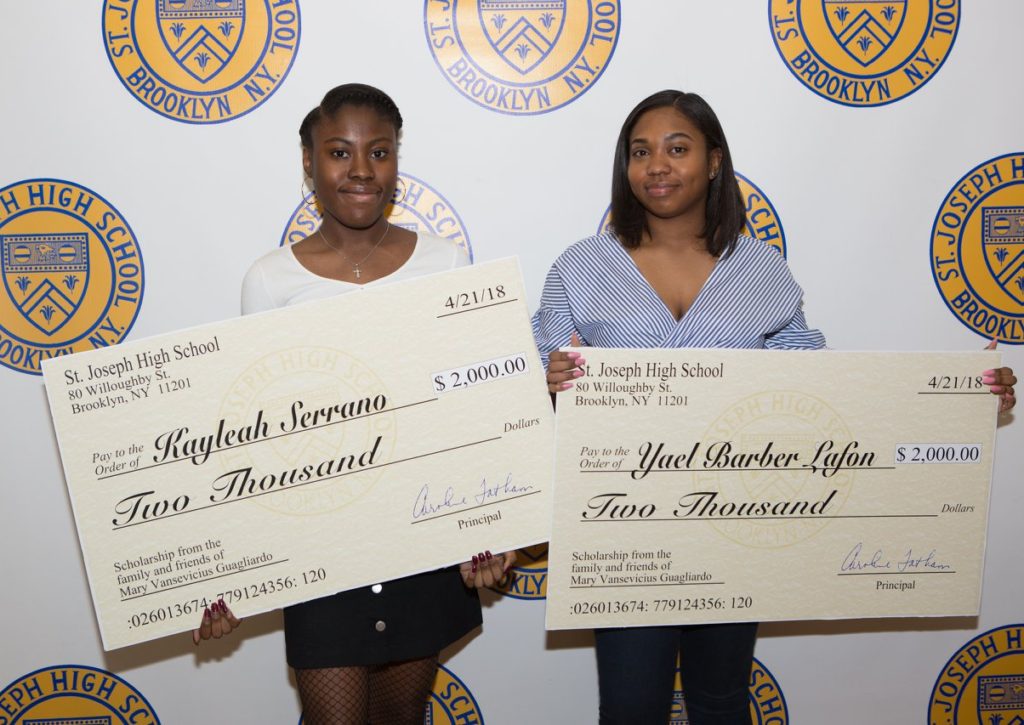 ---
A handmade sign of our appreciation
Each year, alumnae receive a small gift as a token of gratitude for their support of SJHS, and this year's gift had a special handmade touch. To accompany mugs with the school's crest, students in Mr. D'Agosto's Engineering classes and Ms. Schaeffer's Business classes created beautiful wooden coasters for each guest.
St. Joseph High School is named after St. Joseph the Worker who, as a carpenter, supported and cared for the Holy Family. And so, this gift spoke to the longstanding tradition of our high school to combine a rigorous liberal arts education with the learning of practical, hands-on skills and crafts. It also allowed an opportunity for business students and engineering students to work together to develop a useful, well made and aesthetically pleasing item through an iterative design process – a first step in what will hopefully become a fruitful collaboration for future projects!
---
Check out some photos of the coaster project process!
---
Even more photos!
---
We are so grateful for the generous support of our many SJHS alumnae! If you are an alumna who would like to be more involved with St. Joseph's please contact our Alumni Relations Director, Candace Ovid ([email protected]). You can view the full Alumnae Luncheon Photo Gallery and stay in touch with SJHS friends at our Alumnae Facebook Group.