Announcements
We are delighted to announce that 6 SJHS students have been accepted to competitive summer programs this year. Read more about their accomplishments here!
In memory of our late Principal, Caroline Latham, this month we have launched the Caroline Latham Memorial Fund. This is a wonderful opportunity to honor Mrs. Latham's memory by supporting the educational efforts of St. Joseph High School! Learn more here.
Highlights
April 3: The Dance Club attended the annual Tilles Center Dance Conference. Mrs. Antonio continued Mrs. Latham's tradition of bringing each of the girls a red rose to celebrate their performance at the end of the conference.
April 6-7: The Speech team competed in the New York State Forensic League Championships at Hofstra University.
April 12: Juniors attended a College Fair at our brother school, La Salle High School. The students really enjoyed the fair and were introduced to some colleges that they had never heard of. They also learned about the admissions process, and got to learn first hand what each of the colleges require. Mr. Giordano, SJHS College Guidance Counselor, also had the opportunity to learn a lot about the Junior class and what they are looking for, which will help him make recommendations as they begin applying to colleges. The night before the fair, our College Guidance Program held an Information Night for the Juniors and their parents, so all of the information was fresh in their heads at the fair, where they got to apply what they had learned in a real life situation!
April 12: We hosted the annual Senior Breakfast and Game Day with our senior class and the seniors of La Salle High School
April 12-13: Our Spring Show, High School Musical, went off without a hitch! Mr. Ethan shares, "It's always satisfying when an ensemble works well together and truly enjoys being in the production, regardless of roles, parts, etc. This group loved being in the show, rehearsing, and performing live!  It was a true joy to watch them bring High School Musical to life here at SJHS!" Read more about the production and check out our photo gallery here!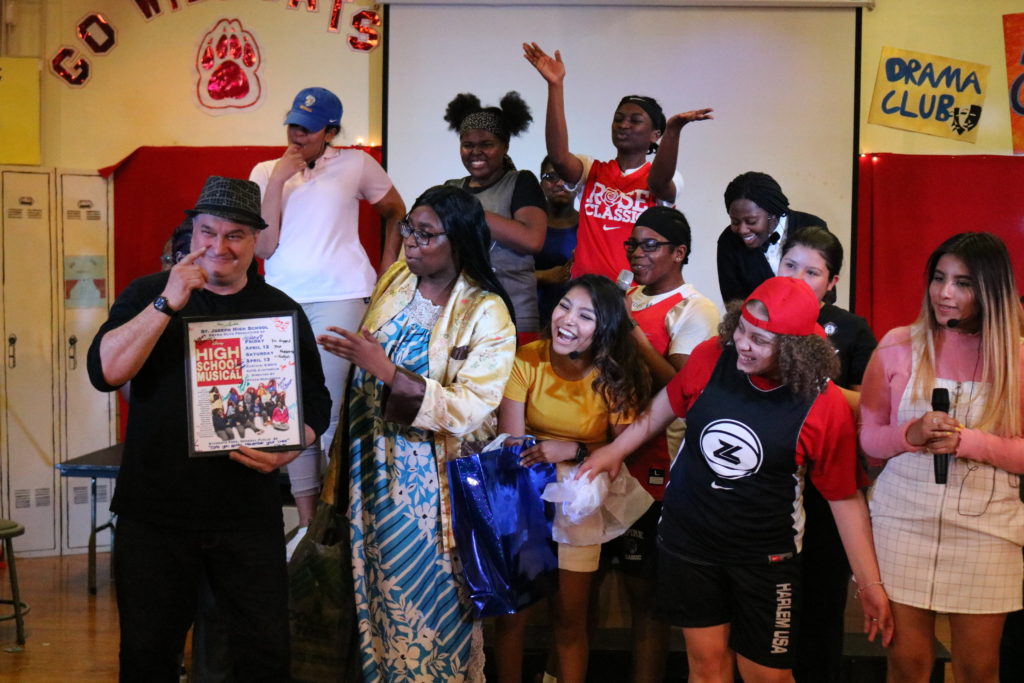 April 16-17: Through the Don't Separate Families  (DSF) Teen-to-Teen Letter Writing Campaign, students learned about the crisis of family separation, and wrote letters and cards to children held in indefinite detention.
April 17: We held our Annual Holy Week Liturgy, focused on the 7 last words of Jesus as he was crucified. The liturgy included readings and reflections from many students and faculty members, as well as the ministries of song, dance, and step. It was a wonderful way for our school community to prepare for Easter together before Spring Break.
April 25-28: The Track team competed in the Penn State Relays and ran in a meet at the ICAHN Stadium on Randall's island!
April 30: For our celebration of Poem in Your Pocket Day, students shared their favorite poems with their Houses during our monthly House meeting.
April 30-May 2: The Softball team played games 3 days in a row! In its second year, our team has improved our rate of wins over last year, and our students remain motivated to finish out the season at playoffs. Junior Parmela Leveille shares, "I like playing softball because of how well the team works together to win. Some obstacles that I've learned to face include knowing how to focus when the game is going, and knowing how to block out the other teams chants and control my temper."